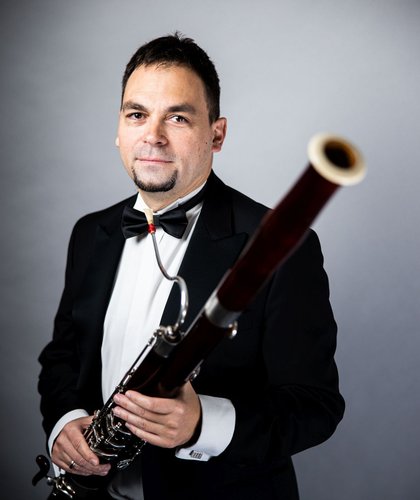 Dániel Tallián
bassoon
Born in 1975 in Budapest, he started to learn music at the age of ten. Having completed his studies at the Béla Bartók Music Secondary School of Budapest, he was admitted to the Franz Liszt Academy, where he learned with Tibor Fehér, József Vajda and Gábor Janota and obtained his diploma in 1998. In 1990 he won first prize at the János Richter National Woodwind Competition, in 1993 at the International Music Competition of Aberdeen (Scotland), in 1995 at the Imre Weidinger National Competition of Pécs (Hungary). In 1995 he became member of the Symphony Orchestra of the Hungarian Radio. A regular participant of different projects of the Budapest Festival Orchestra, he became full member of the BFO in 2007.
As a regular guest artist he played on concerts of Franz Liszt Chamber Orchestra, Erkel Ferenc Chamber Orchestra,  Budapest Chamber Symphony,  Austro-Hungarian Haydn Orchestra, and Erdődy Chamber Orchestra.
In 2002 he gained Artisjus performing arts award for presentation of contemporary Hungarian works.