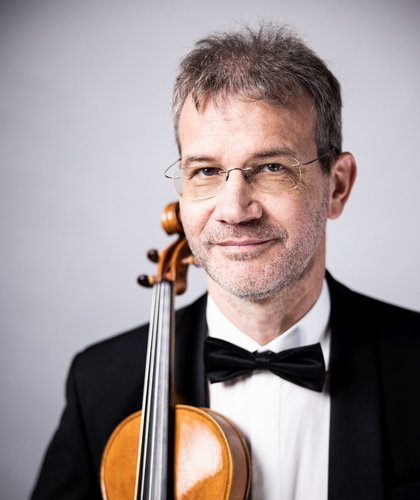 Péter Kostyál
violin
Péter Kostyál was born 1970. As his father, Kálmán Kostyál, was Principal of the Franz Liszt Chamber Orchestra, music and the orchestral life had a significant influence on his entire childhood. He started to play violin at the age of five.  His first teacher was Krisztina Balsay, and later he studied under Mrs Dr András Sós at the Béla Bartók Secondary School of Music and the Liszt Ferenc Academy of Music. He graduated from the Liszt Academy in 1993.
Kostyál has been a member of the Budapest Festival Orchestra since 1991, but has always retained interests in other, smaller chamber orchestra performances. He was a founding member and Principal of the Erkel Chamber Orchestra, and later also of the Sonora Hungarica Chamber Orchestra. At the beginning of the 1990s, he was the concert master of the Ernő Dohnányi Symphony Orchestra, also performing as a solo violinist and occasionally violist.
Between 2012 and 2021 he played with the Lenner Quartet, and from 2021 he is a member of the Barcarola Quartett, which he established with his friends and colleagues to revive the tradition of house concerts from the beginning of the 19th century and bring them back into Hungary's musical life.