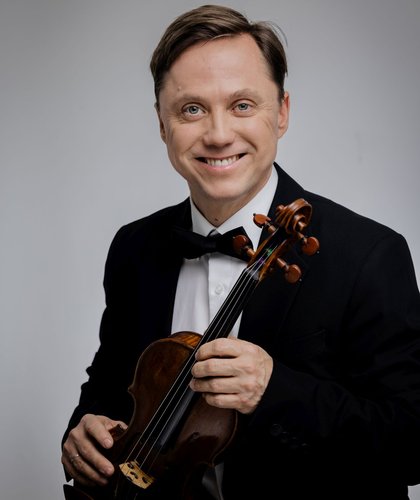 Pál Jász
violin
Pál Jász was born in Budapest in 1972, into a family of artists. His father was the leader of an orchestra and a violin teacher. After graduating from the Béla Bartók Secondary School of Music, he was admitted to the Liszt Ferenc Academy of Music where he studied under András Csontha, Dénes Kovács, Sándor Devich and Béla Bánfalvi. He received his degree as a violin teacher and performer in 1996, having regularly attended Dénes Zsigmondy's master classes.
He was awarded third prize at the Jenő Hubay Violin Competition in 1994. Between 1991 and '96 he was a member of the Erkel Ferenc Chamber Orchestra, and the Orchestra of the Hungarian State Opera from 1994 to 1996. Between 1995 and 2000 he was part of the Budapest Festival Orchestra and was also first violinist of the Grassalkovich Quartet.
He played in the Malaysian Philharmonic Orchestra in Kuala Lumpur from 2000 until 2007, and in 2008 joined Concerto Budapest as principal violinist and a permanent performer in their chamber music events. Between 2011 and 2013 he was a regular participant in the concerts of Orchestra Mozart Bologna, under the guidance of Claudio Abbado. He has also taken part in performances by the Orchester Wiener Akademie since 2012.
Since 2007, Pál Jász has again been performing regularly with the Budapest Festival Orchestra and has been part of their chamber music concerts.