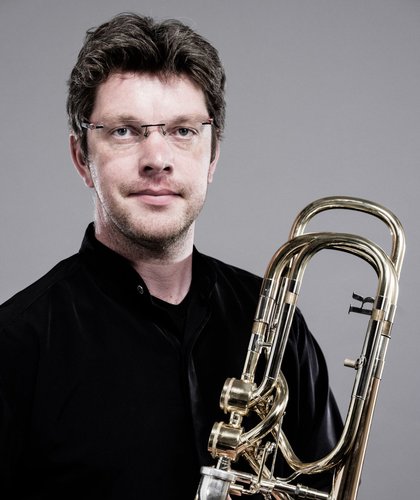 Csaba Wagner
trombone
Trombonist Csaba Wagner was born in Szentendre in 1980. He started taking music lessons in Pomáz and in Szentendre, at the Tihamér Vujicsics Music School. After completing studies at the Béla Bartók Music Secondary School in Budapest, he earned his degree at the Liszt Academy in Budapest as a student of Ferenc Steiner and András Fejér.
While still in school, he was the participant of several competitions and master classes in Hungary and abroad, both as a soloist as well as a chamber musician. He is a founding member of the Budapest Corpus Trombone Quartet, founded in 1999. In 2001, he won first place at the Balogh-Zilcz trombone competition in Budapest; in 2003 he finished first in competitions in Helsinki and Guebwiller; and in 2004, he was the winner of the international trombone competition held in Jeju City, South Korea. He was awarded the Junior Prima Award in 2011. Since 2005, he has been sponsored by the British instrument manufacturers Michael Rath.
Starting the same year, he has taught regularly at master courses and performed at concerts all over the world. Between 2010 and 2012, he was an assistant professor at the Liszt Academy; since 2017, he has been an assistant professor at the Universität der Künste in Berlin.
From 2002 until 2006, he was a member of the Hungarian State Opera House Symphony Orchestra; between 2006 and 2009, he was a member of the Staatskapelle Berlin Deutsche Staatsoper. Between 2015 and 2017, he played bass trombone in the Gewandhaus Leipzig. He has been a member of the Budapest Festival Orchestra since 2017.
As a guest musician, he performs with the Boston Symphony Orchestra, the Berlin Philharmonic, the Bavarian Radio Symphony Orchestra, the Berlin Radio Symphony Orchestra, the Deutsches Symphonie-Orchester, the Konzerthausorchester Berlin, the La Scala Philharmonic Orchestra in Milan, the Mahler Chamber Orchestra and the German Brass ensemble, as well as at the German state opera houses in Munich, Berlin and Hamburg and at the Maggio Musicale opera house in Florence.
Over the course of his career, he has worked with such figures as Iván Fischer, Daniel Barenboim, Zubin Mehta, Pierre Boulez, Sir Simon Rattle, Kirill Petrenko, Gustavo Dudamel, Yannik Nézet-Seguin, Vladimir Jurowsky, Daniel Harding, Semyon Bychkov, Andris Nelsons, Ricardo Chally, Herbert Blomstedt, Marek Janowski or Simone Young.