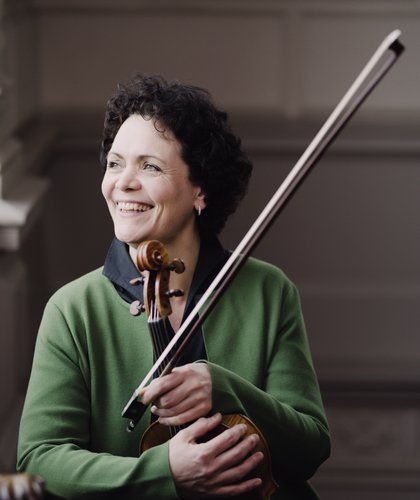 Tabea Zimmermann
viola
Tabea Zimmermann, who considers herself "a musician who plays the viola", is one of the most popular and renowned artists of our time. She is widely acknowledged for her tireless enthusiasm to communicate her love of music to her audience and her uncompromisingly high quality standard. Her work with orchestras is also guided by the ideals of her experience as a chamber musician, where artistic integrity is paramount.
Following residencies in Weimar, Luxembourg, Hamburg, with the Frankfurter Museums-Gesellschaft and the Bamberg Symphony, Tabea Zimmermann was Artist-in-Residence with the Ensemble Resonanz in 2013–14 and 2014–15, with the Royal Concertgebouw Orchestra in 2019–20 and with the Berliner Philharmoniker in the season of 2020–21.
She has inspired numerous composers to write for the viola and has introduced many new works into the standard concert and chamber music repertoire. Her artistry is documented on approximately 50 CDs and her artistic work has been recognized with numerous awards both in Germany and abroad, most recently with the international Ernst von Siemens Music Prize 2020.
Tabea Zimmermann has held teaching posts at the Musikhochschule Saarbrücken and Hochschule für Musik Frankfurt. Since October 2002, she has been a professor at the Hochschule für Musik 'Hanns Eisler' in Berlin.
She has been playing an instrument built for her by Patrick Robin since 2019.