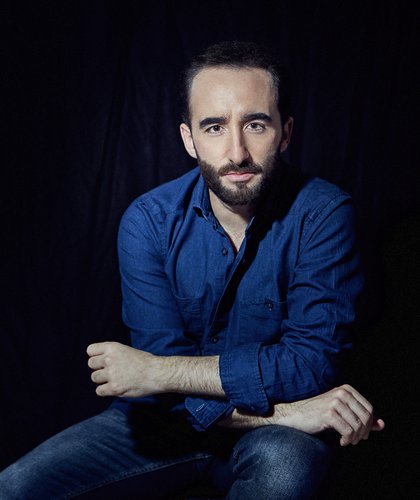 Francisco Fernández-Rueda
tenor
A special class, theatrically and scenic , presented the tenor Francisco Fernández-Rueda as Filandra: singing and acting skills to fascinating level. – Dreh Punkt Kultur | August 2016
Francisco Fernández-Rueda performed a vocally soverign Don Ottavio. – Opernglas | November 2013
Francisco Fernández-Rueda was excellent in his roles and also showed great actor skills: he is one of those singers who fill the scene and who sing with contagious aplomb. – El País | June 2017
Considered by the specialized critics as a versatile singer, with a beautiful timbre and a great stage presence, the career of this young Spanish tenor received a definite boost after his participation in the V edition of the Jardin des Voix (2011), a project led by the American conductor William Christie.
Future plans include: Armida by Haydn (Rinaldo) at the Herbstgold Festival in Eisenstadt, La verità in cimento by Vivaldi (Mamud) at Theater Heidelberg, Il finto sordo by Manuel García (Capitano) at the Teatro de la Zarzuela in Madrid, Il Rè Pastore by Mozart at the Teatro la Fenice in Venice. Mr. Fernández-Rueda will perform Winterreise (staged version) by Schubert together with the pianist Rubén Fernández-Aguirre in Andorra.
Mr. Fernández-Rueda is regularly invited by many great conductors such as Sir John Eliot Gardiner, Fabio Luisi, William Christie, Enrico Onofri, Jean-Christophe Spinosi, Jordi Savall, Fabio Biondi, Jean Christophe Spinosi, Konrad Junghänel or Leonardo García Alarcón. He has also sung with outstanding orchestras such as English Baroque Soloists, Les Arts Florissants, Concerto Köln, La Scintilla Orchestra, Europa Galante, Concertgebouw Kamerorkest, Haydn Philharmonie, Orquesta Ciudad de Granada, Ensemble Matheus, Les Ambassadeurs, Le Cercle de l'Harmonie…
He has appeared at some of the most emblematic theatres and opera houses around the world: Berliner Philharmonie, Salzburger Festspielhaus, KKL Luzern, Opéra Comique, Cité de la Musique and Philharmonie in Paris, Opéra Royal de Versailles, Opéra de Bordeaux, Opéra Angers-Nantes, Opéra de Reims, Teatro la Fenice, Festival della Valle d'Itria, Theater Winterthur, Brooklyn Academy of Music or Lincoln Center in New York, Kennedy Center in Washington, Harris Theater in Chicago, Baden-Baden's Festspielhaus, Rokokotheater in Schwetzingen, Jerusalem Theater, Auditorio Nacional de Música in Madrid, Palau de la Música Catalana or Gran Teatre del Liceu in Barcelona or Palau de la Música in Valencia.
In the operatic field, Mr. Fernández-Rueda has performed Don Ottavio in Mozart's Don Giovanni, Ferrando in Mozart's Così fan tutte, Rinaldo in Haydn's Armida, Bajazet in Handel's Tamerlano, Goffredo in Haendel's Rinaldo, Orfeo in Monteverdi's L'Orfeo, Ulisse in Monteverdi's Il ritorno d'Ulisse in patria, Narete in Hasse's Leucippo, Toante in Traetta's Ifigenia in Tauride or Sir Hervey in Donizetti's Anna Bolena.
In concert, he has sung, Mozart's Requiem and Krönungsmesse, Handel's Messiah, Bach's Johannespassion, Matthäuspassion, Weihnachtsoratorium and H-moll Messe, Monteverdi's Vespro della Beata Vergine, C.P.E.Bach's Magnificat or Orff's Catulli Carmina.
Born in Seville, began his musical training as a clarinetist. He holds a degree in French Studies from the University of Seville. Later he moved to Barcelona where he studied Singing at the Escola Superior de Musica de Catalunya (ESMUC).
Mr. Fernández-Rueda's discography includes Monteverdi's Il ritorno d'Ulisse in patria (SDG) under the baton of Sir John Eliot Gardiner, DVD Haendel's Rinaldo with Fabio Luisi and La Scintilla Orchestra (DYNAMIC), Mozart's Concert Arias for tenor with Ensemble Cristofori (ACCENT), Pasquini's La Sete di Christo (CHRISTOPHORUS), Tonos Humanos of Guerra Manuscript (NAXOS), Grétry's L'Épreuve Villageoise (NAXOS USA), and DVD Lully's Atys with Les Arts Florissants and William Christie (FRA MUSICA).