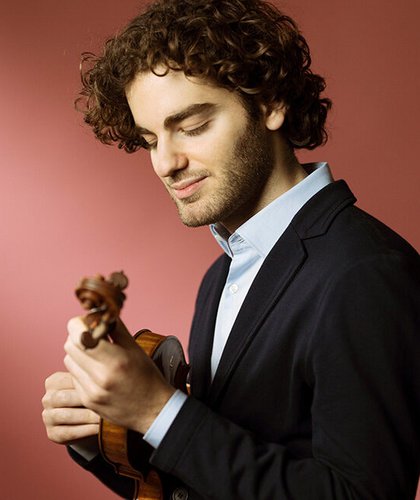 Emmanuel Tjeknavorian
violin
Despite his young age, Emmanuel Tjeknavorian is already one of the great artists of his generation.  The Austrian, born in 1995, inspires audiences and critics with his depth, his technical brilliance and his great versatility. He has made a name for himself both as a violinist and as a conductor – he is simply "an exceptional talent," as the Tagesspiegel attested. Radio Klassik Stephansdom recognized Tjeknavorian's strengths as an eloquent music communicator early on; since 2017, he has been hosting his own show there, "Der Klassik-Tjek." Tjeknavorian's musical family heritage is also of note: as the son of composer and conductor Loris Tjeknavorian, Emmanuel has been making music from an early age and combines musical as well as cultural worlds in his art.
The fact that Emmanuel Tjeknavorian is a musician of unique subtlety and intellectual depth has also spread to the important international concert halls and orchestras, and so in the 2021/22 season he will conduct the Graz Philharmonic, the Tonkünstler Orchestra, the Württembergisches Kammerorchester Heilbronn and the Bruckner Orchestra Linz, among others. Having already taken conducting lessons with his father, composer and conductor Loris Tjeknavorian since 2014, and attended master classes in England and Italy, Tjeknavorian intends to focus more on conducting in the future.
As a soloist, Tjeknavorian will appear with the Filarmonica della Scala with Riccardo Chailly, as well as with the St. Petersburg Philharmonic with Yuri Temirkanov and the Accademia Nazionale de Santa Cecilia with Sakari Oramo. The Essen Philharmonic is dedicating an artist's portrait to him in the 2021/22 season and as "Artist in Association", he will be a frequent guest with the Württemberg Chamber Orchestra.