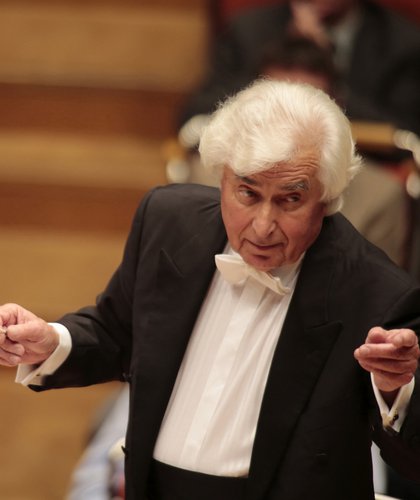 Dmitri Kitayenko
Dmitri Kitayenko is one of the great maestros of our time. For decades now he has regularly conducted prestigious orchestras across Europe, America and Asia.
Born in Leningrad (now St Petersburg), Dmitri Kitayenko studied at the famous Glinka School of Music and the Rimsky-Korsakov Conservatory before leaving to study with Leo Ginzburg in Moscow as well as Hans Swarowsky and Karl Österreicher in Vienna. In 1969 he won a prize at the first International Herbert von Karajan Conducting Competition and at the age of twenty-nine he was appointed principal conductor of the Stanislavsky Theatre in Moscow. In 1976 he assumed the post of principal conductor of the Moscow Philharmonic. In 1990 Dmitri Kitayenko moved to the West, successively becoming principal conductor of the Frankfurt Radio Symphony and the Bergen Philharmonic Orchestra, as well as principal guest conductor of the Danish National Symphony Orchestra. Since 2012 Dmitri Kitayenko has also been principal guest conductor of the Berlin Konzerthausorchester. In September 2015 he was named Conductor of Honor of the Qatar Philharmonic Orchestra.
Dmitri Kitayenko and the Cologne Gürzenich Orchestra, of which he has been honorary conductor since 2009, have together recorded the complete symphonic works of Shostakovich, Prokofiev, Tchaikovsky and Rachmaninoff. These recordings have been awarded countless international prizes and are considered important benchmark recordings. Their recording of Tchaikovsky's one-act opera Iolanta in 2015 with Olesya Golovneva, Alexander Vinogradov and Andrei Bondarenko in the lead roles caused a sensation. In autumn 2016 the complete recording of Tchaikovsky's ballet music to The Nutcracker and the Divertimento from Stravinsky's Le baiser de la fée were released on OehmsClassic. Dmitri Kitayenko's discography encompasses a total of more than 250 recordings, mostly with the Moscow Philharmonic Orchestra, the Frankfurt Radio Symphony, the Bergen Philharmonic Orchestra and the Danish National Symphony Orchestra.
In recognition of his life's work and outstanding recordings, including the complete symphonic works of Shostakovich, Prokofiev, Scriabin and Tchaikovsky, Dmitri Kitayenko received the "Lifetime Achievement Award" at the ICMA (International Classical Music Awards) in March 2015.