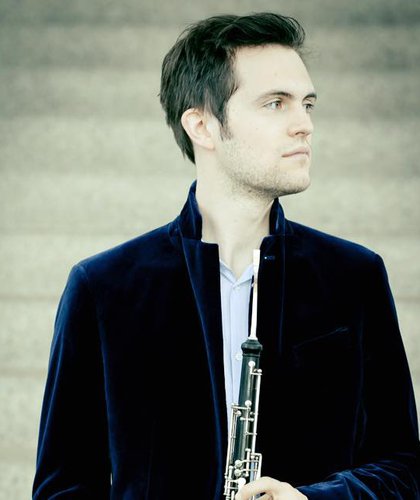 Clément Noël
oboe
Born in Nancy in 1987, Clément Noël began oboe lessions with Jean-Paul Hansen at the Conservatoire de la Ville d'Esch-sur-Alzette (Luxembourg). Later he continued training with Christian Schmitt, Pascal Saumon at the Conservatoire National de Région de Versailles, and with Jean-Louis Capezzali, Jérôme Guichard and Fabien Thouand at the Conservatoire National Supérieur de Musique et de Danse in Lyon. 
Since 2010 Clément has been solo English Horn in the Orchestra of the Zurich Opera House, and performed under the direction of Zubin Mehta, Daniele Gatti, Valery Gergiev, Nikolaus Harnoncourt, Fabio Luisi and Nello Santi. In September 2010 he played the English Horn part of Tristan and Isolde under the direction of Bernard Haitink. 
Since 2011 he is a regular guest of the Budapest Festival Orchestra as first oboe or solo English horn. 
He has also appeared as first oboe at Gustav Mahler Jugend Orchester (dir. Claudio Abbado) and is regularly invited to perform as a guest player with orchestras like the Mahler Chamber Orchestra, the City of Birmingham Symphony Orchestra,  the Orchestre National du Capitole de Toulouse, the Orchestre National de France, the Orchestra dell'Academia di Santa Cecilia di Roma, the Sinfonieorchester Basel, or the Symphonieorchester des Bayerischen Rundfunks. 
Clément has been awarded several prizes in prestigious competitions :  a special prize in the European Music Prize of Youth in 2003 (Linz, Austria), the special prize for the set piece in the Barbirolli International Oboe Competition, the first prize and the SACEM Prize of the International Competition for Young Soloists in Luxembourg.
He is also a founding member of Labyrinth Ensemble and is assistant teacher of the oboe class in the Conservatorio della Svizzera Italiana in Lugano. 
Clément is also holder of a Degree in History (Paris Sorbonne), and of a Master Degree in Political Sciences obtained in the Institut d'Études Politiques of Lyon.