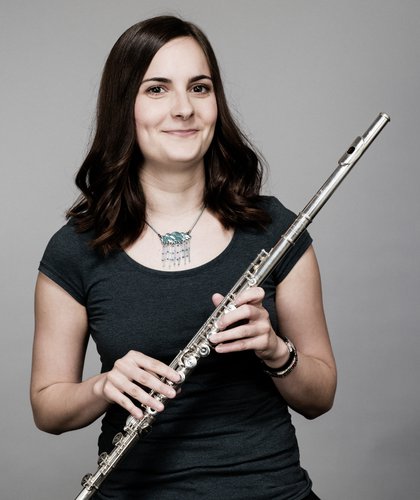 Berta Bánki
flute
Born in Budapest in 1993, she started learning the flute at age 10. After graduating from the Zoltán Kodály Musical Secondary School in Kecskemét, she was admitted to the Franz Liszt Academy of Music, where she studied under Bea Berényi, Erika Sebők and Zsolt Romos, and in the academic year 2016–17, under János Bálint at the Hochschule für Musik in Detmold on a scholarship. In addition to her main subject professors, she also feels indebted to Vera Balogh (Baroque flute), Mrs Ittzés Zsuzsánna Szűcs and Benjamin Plag (piccolo), Sándor Balogh, Márta Gulyás and Rita Wagner (chamber music).
She took third place both at the National Flute Competition in 2010 and the in-house competition of the Franz Liszt Academy of Music in 2015. Also, in 2015, she won second prize at the National Art Student Conference with her entry entitled "The relationship of performance and creative arts in Zoltán Gyöngyössy's oeuvre".
In 2015 she became a member of the Savaria Symphony Orchestra, in 2017 joined the Ernő Dohnányi Symphony Orchestra in Budafok, and from the same year has been a regular performer of the Budapest Festival Orchestra.