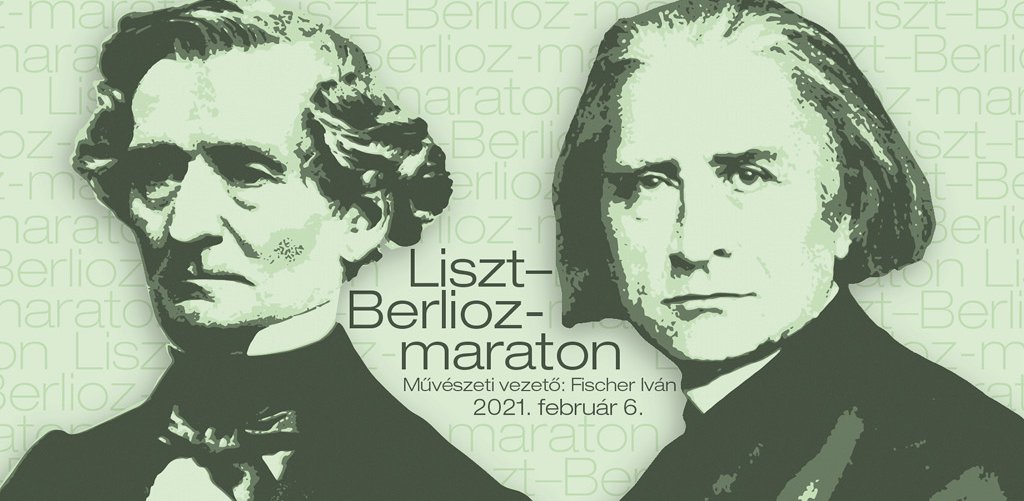 Liszt–Berlioz Marathon
Franz Liszt and Hector Berlioz were favorites of the caricaturists of the 19th century. We know there is a grain of truth in every joke: Liszt, depicted in the drawings breaking pianos, and Berlioz, shown conducting enormous orchestras and cannons, both put monumental forces to work in their music; yet their oeuvres are about more than just fortissimos and scores with countless parts. Both men composed solo and chamber pieces; both have earlier works and later ones that were ahead of their time; and both wrote traditional as well as iconoclastic pieces. In 2021, the traditional marathon organized by the BFO and Müpa Budapest will spotlight Liszt, in the 210th anniversary year of his birth and the 135th anniversary year of his death, along with Berlioz, someone whom Liszt respected so very much.
This will be the fourteenth marathon hosted by the Budapest Festival Orchestra and Müpa Budapest. Following our events starring Tchaikovsky, Dvořák, Beethoven, Schubert, Mozart, Bartók, Bach, Stravinsky, Mendelssohn and Schumann, Brahms, Bernstein, Debussy and Ravel, and Beethoven once again, this time, we will welcome audiences in the Béla Bartók National Concert Hall and the Festival Theatre at concerts again featuring the works of two composers; other spaces in the building will host screenings and free concerts. The marathon will, as before, feature performances by prominent soloists, symphony orchestras and chamber music ensembles of the Hungarian musical community.
Liszt's timeliness is obvious: thanks to the two anniversaries and his almost limitless oeuvre, we could host marathon performances of his works every five years. Liszt, who was so stunningly at home in the artistic world of the 19th century, made a lasting impact not only as a composer, but also as a piano virtuoso, a conductor and an educator. He knew everyone who mattered, and he traveled all around Europe: in addition to showing off his own exceptional piano technique, he also promoted the works of friends he thought talented, either by conducting or transposing their works.
His version for the piano of Berlioz's Symphonie Fantastique turned out so well that Schumann relied on it exclusively when writing his critique of the orchestral work. Of course, this was not Liszt's only gesture to his fellow composer, his elder by eight years. He conducted several of his works; and in Weimar, he organized a Berlioz week, an exceptional event at the time. In sum, the marathon will feature a meeting of two of the greatest figures of the genre of program music, and two reformers of symphonic sound, showcasing infinitely exciting works that transcend virtuosity and the traditional orchestral apparatus.

For further information on the concerts, please see the booklet of the event by clicking here.
Full description